Does this sound familiar?
"Our logo is old and tired."
• • •
"My logo looks like it was designed by a robot - it has no heart and soul."
• • •
"Our business has evolved and I think we've outgrown our logo."
We can help.
"Our new logo captures the natural beauty of the place we work and call home, and inspires all of us to live a more active life full of adventure and exploration." - SBPT
"Working with Red Umbrella Designs was an excellent experience. Baylie and Lexie were very supportive, responsive, and thoughtful throughout the entire process, helping to create a logo we are thrilled with." - GH
"The design process was very personal and thoughtful, and they were quick to turnaround a fantastic piece of art that truly represents our business in the best way." - LC
"Red Umbrella was a joy to work with; I felt listened to and the process was fun. Baylie's kindness, creativity, and thoughtful approach will forever be appreciated!" -CR
Custom Logo & Branding Design
What you'll get:
• Two rounds of revisions 
• Four week turnaround time
• 1 hour phone or video meeting for design review
• Two alternate logo formats

of single image

(ie: horizontal + vertical layouts; circular + square)
• Social media profile icon / wordmark 
• Merchandise mockup: logo design mocked up for preview purposes only on the product of your choice (T-shirt, business card, trucker hat, bottle, sticker, etc)
• Comprehensive branding guidelines document to ensure brand consistency
• Files formats for print & web 
• Our own File Types 101 document outlining best practices to utilize your new logo files
Marketing collateral for print or web (business card design, merchandise design, advertisement layouts, etc) available for an additional charge if requested.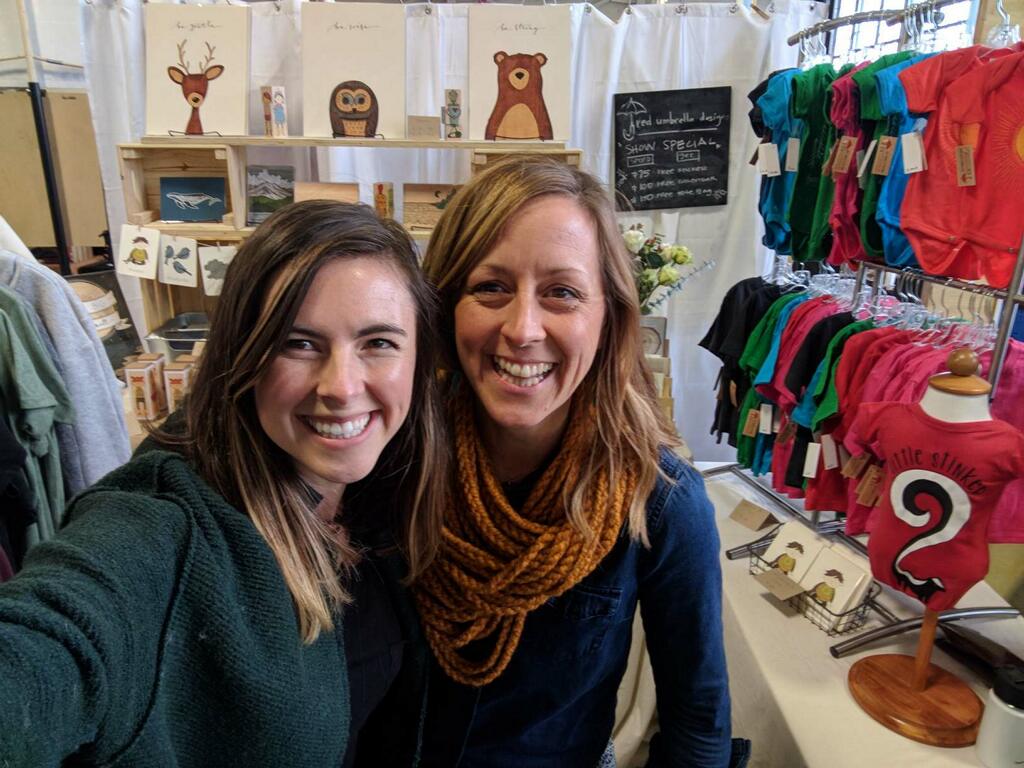 Meet your designers
Baylie Peplow is the founder and owner of Red Umbrella Designs.
Lexie is awesome, talented, and wonderful.
Thanks for submitting your information! Please continue with the checkout process.
Frequently Asked Questions


What if I have no idea what I want my logo to look like?
No problem! We are comfortable using as much or as little guidance as you have to offer.
What if I have a suuuper specific idea of what I want my logo to be?
We love helping bring your vision to life! That being said, we trust that you'll be open to our professional recommendations, otherwise you wouldn't need our help!
Can you re-create a logo I saw somewhere else for my business?
A logo is meant to be unique, original, and distinctive. For this reason, we won't be able to reproduce an image or concept that already exists.
What if we need more than two rounds of revisions?
Once we've developed your logo design concept, you'll have the opportunity to approve your final proof. At this stage in the process, if you're not totally satisfied, you can request more design time for an additional fee.
Will I own the rights to my logo artwork? Can I print or reproduce it?
Yes. The final product is yours to use as you see fit. We retain rights to all process & final artwork to use for portfolio and marketing purposes. Occasionally, we like to use artwork created for a client project in our line of retail products. We reserve the legal right to do so, but as a courtesy will always ask for your blessing before reprinting or selling artwork recognizably similar to yours.